The quick portrait of who's playing in the best
Italian Face-to-Face Strat-O-Matic Pro Football League.


Alessandro Novello
Commissioner e member of the IFL's Rule Committee.
Owner of the Lido Coastliners dal 1986.
Overall Record (W-L-T) at the end of Season XII: 49-56-1.
He's the sparkplug of the IFL. Without him the IFL shall be a sort of constant dogfight pen, where rules are invented and reinvented in each single down!
We have already seen this many times.
He publish the world renown IFL YEARBOOK, one of the very best in its category. Some north-american well-established leagues already are envious of "Drino" works!!
A genuine lover of rock music, his team has been named after Genesis' song "Can Utility and the Coastliners" from their legendary "Nursery Crime" record. His vynil records collection is absolutely noteworthy.
Along with Giorgio Salvadego he forms a solid duo of in rooting for the Oakland Raiders, being two ofthe few Italians of having taylored their summer holydays according to the Raiders schedule in order to attend a Raiders' game.
A maitre d'hotel by trade, he's married to Sabrina, and father of an aspiring figure skater Veronica.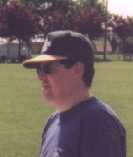 Giorgio Salvadego
Rule Committee Chairman and IFL's Webmaster.
Owner of the Marghera Rangers from 1986.
Overall Record (W-L-T) at the end of Season XII: 54-49-1.
He's in charge for the IFL's rulebook. Has designed the original IFL's 2-minutes clock, and made all the groundwork for the 1997 total draft.
He's the current defending champion of the league, after winning Superbowl XII, and has represented the IFL at the Strat Fan in Akron, Ohio, in August 1998.
A genuine Oakland Raiders fan, he has never been able to correctly pronounce Los Angeles Raiders during their stay in La-La Land, doesn't like Jeff George at all, and consider the annual show-downs with the Denver Broncos a necessary yearly evil similar to compiling the annual tax return forms...
He's a three times IFL winner, and with 3 Superbowl victories and only 1 loss, he prides themself in being a better Superbowl gamemaster than much more heralded Dan Reeves and John Elway... 8-))
Land-Surveyor by trade for the Italian Government, he's single right now...

Alberto Scatto
Lazy Software Whiz-Kid of the IFL.
Owner of the Chirignago Blackcrows from 1994.
Overall Record (W-L-T) at the end of Season XII: 19-24-0.

Sergio Barea
Owner of the Quinto di Treviso Alligators from 1993.
Overall Record (W-L-T) at the end of Season XII: 30-27-0.

Maurizio Racchello
Owner oof the Quinto di Treviso Thunderbolts from 1994.
Overall Record (W-L-T) at the end of Season XII: 12-29-1.

Luciano Favaro
Owner of the Quinto di Treviso A.R.L. form 1994.
Overall Record (W-L-T) at the end of Season XII: 21-23-0.



The IFL is always on the lookout for back-up managers and interested observers. So, if you live in the Venice, Treviso, Padua, or even the Vicenza region and want to join one of the top-most competitive football league actually in full swing, you are one click of the mouse away from a ton of fun!


JOIN THE IFL!


Back to the Top of the Page


Back to the IFL Home Page